Are you planning a trip to Thailand for the first time? If so, you're in for a treat! The World's #1 Source of Research-Based Content, The Daily Top 10 compiled a list of the Top 10 Best Places for First-time Travelers to Visit in Thailand.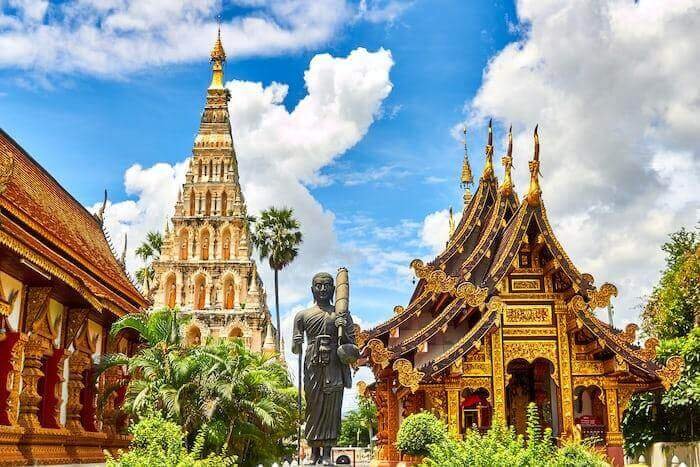 Thailand is a beautiful country with a rich culture, stunning landscapes, and unique experiences. From tropical beaches to bustling cities, there's something for everyone in Thailand. Whether you're looking for a relaxing beach vacation or an adventure-filled trek through the jungle, Thailand has something for everyone.
So, take a look at our list of Top 10 Best Places for First-Time Travelers to Visit in Thailand and start planning your dream vacation!
What is the Best Place for First-Time Travelers to Visit in Thailand?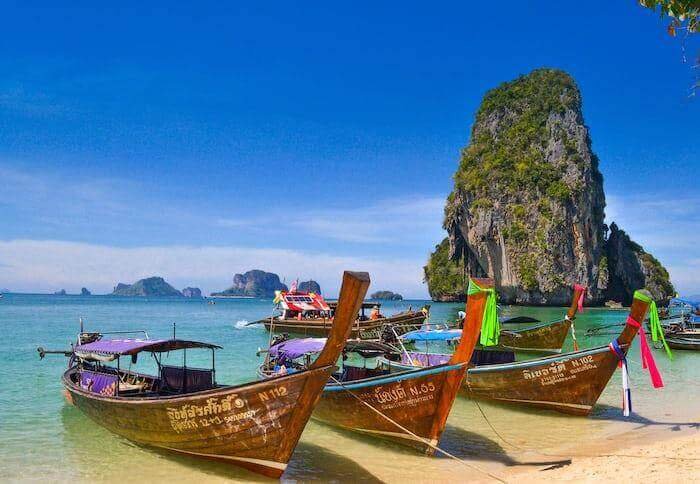 Thailand is an amazing destination for first-time travelers. The activities you can do are endless whether you want to have fun or feel a rush of adrenaline. Whether you're looking for cultural exploration, beach relaxation, or something in between, this list of the best places to visit in Thailand has something for everyone.
Before we identity the Best Place for First-Time Travelers to Visit in Thailand, let's see the rest of our list. So, get planning your trip and prepare to be amazed!
TOP 10: Kanchanaburi
According to Trip Savvy, Kanchanaburi is a city in western Thailand famous for the Death Railway built during World War II which still works. You can take a stroll along the scenic riverbank and then sit down for a cup of coffee, go golfing or enjoy a ride on a bamboo raft on the River Kwai. For another excursion, visit Erawan National Park which features picturesque waterfalls and limestone caverns.
TOP 9: Ayutthaya
Ayutthaya is a city in Thailand located 80 kilometers from Bangkok. It, one of Thailand's greatest cultural attractions worth seeing, has a rich history and is developing a modern culture. According to Wikitravel, there are many ancient palaces, Buddhist temples, monasteries, and statues that can be found in the city.
Wat Chaiwatthanaram is a marvelous Khmer-style temple ruin located along the river. Wat Yai Chai Mongkhon is a temple complex with rows of restored Buddhas facing a huge stupa. Wat Ratchaburana has the most magnificent Khmer-style steeple in Ayutthaya.
TOP 8: Sukhothai
If you are interested in history, both Sukhothai and Ayutthaya (see above) are viable choices for you. According to Wikivoyage, the country's most striking ruins are in Sukhothai, a city located in central Thailand. Take a morning train to Phitsanulok, the closest city to the ruins, and you'll see the city's shopping malls, rice paddies, and lonely temples. Visit the ruins of Sukhothai and stay right next to them in one of the many fine hotels.
You can also visit the lichen-covered 13th-century palaces, giant Buddhas, and temples of Si Satchanalai Historical Park, set in a rainforest garden with more hornbills than tourists. Since there are many ruins to discover, it's advisable to rent a bicycle or motorcycle to explore them so your time won't be wasted.
TOP 7: Ko Kood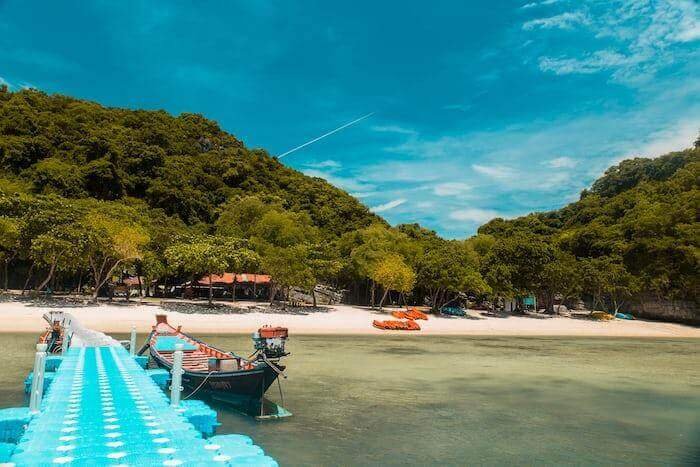 Koh Kood, also known as Ko Kut, is an island situated in the Gulf of Thailand. According to Wikipedia, this island is the largest of the dozen islands managed as part of the Ko Kut District. Since the seawater around the island is crystal clear you can swim and snorkel here or opt for a picnic on the beach.
As mentioned in Tourism Thailand, there is no public transportation on the island. You can rent a motorcycle, a bicycle, or a taxi to explore the island.
TOP 6: Khao Yai National Park
Khao Yai National Park is undoubtedly a heaven for nature lovers. Enjoy hiking, magnificent views, and waterfalls, and observe wild animals such as wild elephants, gaurs, dholes, barking deer, sambar deer, gibbons, hornbills, and macaques.
According to Thai National Parks, you can also go bird watching there. If you like camping, then we have good news for you. Camping facilities are also available here. This place is also great for photography to collect more memories with your first time traveling to Thailand.
TOP 5: Krabi
Krabi is a province on the west coast of southern Thailand and a well-known tourist attraction. It is famous for its picturesque views and stunning beaches and islands. Krabi is a great place for coral diving, as it has one of the most beautiful coral reefs in the world to admire.
In addition, Krabi is also known for its vibrant nightlife with a variety of clubs, bars, and restaurants. As can be seen, by International Citizens, Krabi is one of the safest places for first-time travelers in Thailand.
TOP 4: Koh Samui
Koh Samui is the second largest island in Thailand and is located in the Gulf of Thailand. According to Holidify, it is home to several incredibly iconic and ornate temples such as Wat Phra Yai and Wat Plai Laem. It is also famous for its beaches, coconut plantations, and exuberant rainforest.
The seas around Koh Samui are conducive for sailing and you can extend your exploration to nearby islands like Koh PhaNgan. Swimming and snorkeling are also excellent options. You can also enjoy jungle trekking in the dense forests on the island.
TOP 3: Chiang Mai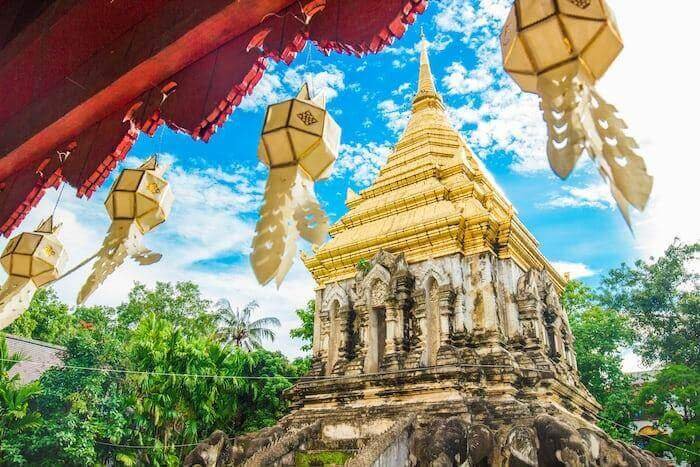 You should start your journey from Chiang Mai if you're wondering where to go in the northern highlands. Chiang Mai is the largest city in northern Thailand, a land of misty mountains and beautiful temples. It's both an attractive historical city and a vibrant cultural center.
According to Lonely Planet, you can visit picturesque ancient temples, various national parks, and tribal villages and also volunteer at the Elephant Nature Park, where you can care for disabled and retired elephants, and feed and bathe these gentle giants.
TOP 2: Phuket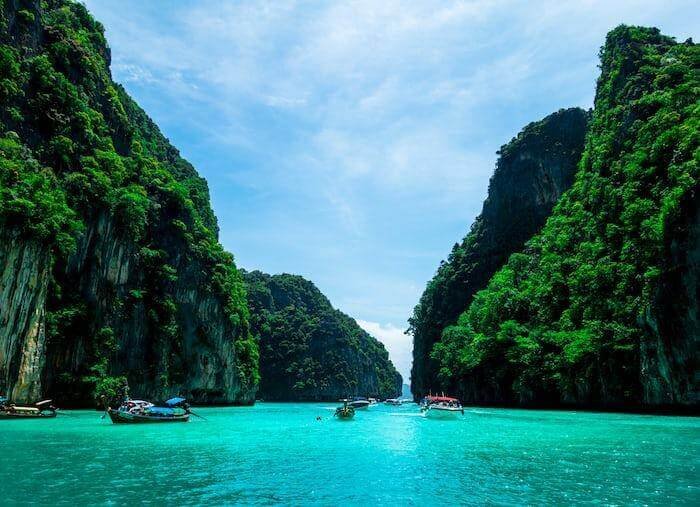 Phuket, located in the southern part of Thailand, has more than 30 amazing beaches. Patong, Kata, Karon, and Kamala have always been the most popular beaches and there are some hidden gems to be discovered in the north of the island.
According to Jet Star, Phuket is also a top-rated destination for kayaking or kitesurfing. In addition, visiting the Tiger Kingdom can be an educational and adventurous experience to get a chance to interact with tigers under supervision.
TOP 1: Bangkok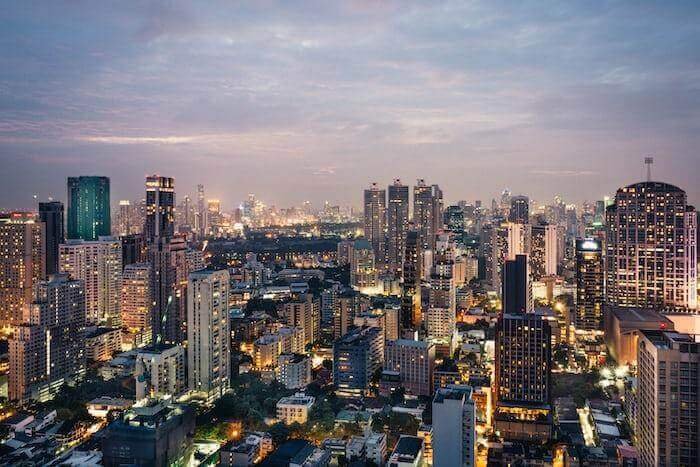 At the top 1 of the list, we present to you Bangkok, the capital city of the country. There are plenty of landmarks and an endless list of attractions to see in Bangkok. According to Time Out, the most interesting ones to visit are the Grand Palace or Wat Phra Kaew, the Emerald Buddha Temple, or Wat Arun, the Temple of the Dawn.
You can also cruise the Chao Phraya River at night to see the night scene of Wat Arun and the Grand Palace. The floating market is another famous landmark that you must visit. Shopping is a good option too as Bangkok has some of the finest shopping sites in the world. Check out the Top 10 World's Best Trending Products to Buy in 2022, before starting your shopping journey. Accordingly, Bangkok is the Best Place for First-Time Travelers to Visit in Thailand.
What are the Best Places for First-Time Travelers to Visit in Thailand?
Thailand is the Southeast Asia gem with bursting culture, incredible food, and some of the most beautiful beaches and landscapes you'll ever lay your eyes on. The most ideal time to travel to Thailand would be during the cool and dry season between November and early April though the cheapest season comes in July. Remember to dress respectfully and cover up when paying a visit to a temple. Being respectful to everyone is extremely important.
Here is the list of Top 10 Best Places for First-Time Travelers to Visit in Thailand:
Bangkok
Phuket
Chiang Mai
Koh Samui
Krabi
Khao Yai National Park
Ko Kood
Sukhothai
Ayutthaya
Kanchanaburi
Even if you are travelling to Thailand for the first time, the most attractive sights like tropical islands and beaches, temples, and mountains must be on your list. We hope our list of top 10 places has inspired you to plan a trip to Thailand and we have shared with you the Top 10 Best & Most Popular Places to Visit in Thailand if you need more locations to add to your bucket list! So, subscribe to our Newsletter to get updated with the World's #1 Source Of Research-Based Content, The Daily Top 10. If you're curious to read more about our Travel-Food-Drinks category, grab them on our website which we listed for you. Cheer!